What's in a name?
The name Sønday was inspired by the dream of being able to have that magical Sunday vibe with you every day of the week.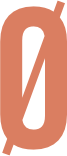 The Ø in Sønday represents the brand's fierce Scandinavian origin.

It also helps convey that all Søndag sets are made of organic (økologisk) cotton.
Everyday
Sønday designs are smart casual and made to look as good as they feel in a range of settings, from family dinners or café catch-ups to the Monday morning meeting. Therefore, the word "Everyday" was implemented into the logo in order to convey unlimited styling possibilities throughout the week.